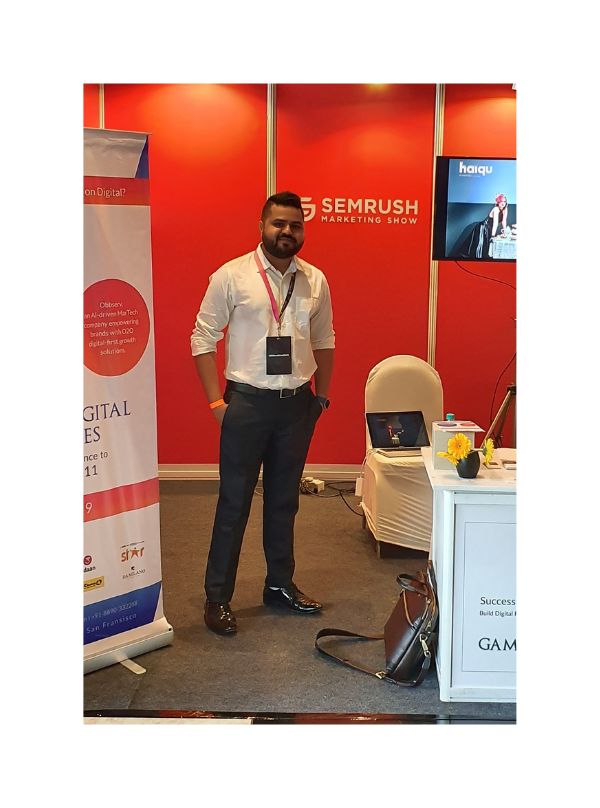 I'm Devendra Saini, an Indian SEO expert. Having been in the SEO Industry for a while, after testing many ranking signals, I know what works and what doesn't. I've helped many startups, medium & large-scale businesses escalate their organic growth & visibility, it's time for me to help your business propel online.
I regularly contribute my recommendations & advice to some of the largest SEO Communities, Groups & Forums, and kill FOMO! I keep up-to-date with the highly competitive search ecosystem & all the latest SEO strategies – many of which I cover on my blog in detail..
Book a Free 30 Min SEO Consultation Call!
My Experience as SEO Consultant
Presently I am dedicated to growing organic growth for Asia's Largest Mobile Gaming Company which is Mobile Premier League, as Head of Search Engine Optimisation that includes managing visibility across Search Engines and Play Store & App Store rankings. MPL has over 80 Million users worldwide.
Before that, I worked with one of India's fastest-growing Digital Marketing Agencies as Head of SEO Dept, where I worked with more than 100 clients across multiple categories and geographies, which includes some of the largest E-commerce, Ed-tech, Healthcare, Travel & Hyperlocal Businesses in India, USA, Europe, Australia & New Zealand.
I am spearheading SEO & ASO Vertical for MPL which is into Real Money Gaming Industry .
I worked as Head of Search. Managed a Team of 20+ SEO specialists & 50 active clients.
I worked as Manager of SEO. Leading a Team of 10+ SEO specialists & 20 active clients.
Freelance SEO Consultant in India
I started as a freelance SEO Expert in India. Mostly managed Local SEO clients & Affiliate SEO Websites.
Trusting SEO Specialist in India isn't Easy!
I won't deny the fact that it's effortless for any person on the internet to claim themselves as an SEO expert, but let me give some good points to trust me & help you with SEO.
I've helped numerous businesses develop a result-oriented digital strategy that helped increase their rankings on Google but also provided quality traffic & consistent revenue (because ROI is what matters!). 
I have faced & resolved some of the complex Technical SEO challenges for various medium & large-scale websites. Some of them are Javascript SEO & Rendering Issues, Index bloat, Site-wide Keyword Cannibalisation, Malicious redirects, Hacked & Compromised websites, Spamdexing issues, Crawl budget wastage, Incorrect Multi Geography Implementations, complex website migrations, Bad Crawl depth, Bad Information Architecture, Content decay … and the list goes ON!
Ranking algorithms have consistently changed themselves in the last decade. A solid understanding of evolving search intent has helped me make data-driven decisions in building my SEO strategy, eliminating chances of having any penalty from core updates.
I make consistent appearances on many SEO and digital marketing-related clubhouse podcasts, webinars, and summits. I love expressing my views and thoughts with others in the industry to showcase the results of SEO experiments that I've run. It also helps me benchmark myself in the industry and get many working methods, techniques & insights from other experts, which is not less than a growth hack for my strategies.
An SEO Expert's Tools Stack
Don't take my word for it!
I know you might still find it hard to trust me. So, here is what some of the Best Digital Marketing Experts, Founders & Leaders have to say about me. 
Devendra has immense knowledge about SEO and is capable of analyzing and strategizing a whole SEO strategy from scratch and has the experience to manage teams and guiding them to implementing it.
SEO is a huge database and getting ranked on the first page is a wish of every business and Devendra can help in catering that need by filtering your website to get top among the huge database.
Devendra is one of the very passionate SEO Professional I have worked with. He is a result oriented & objective driven person. Getting the keywords on the first page of Google is what every client needs and he delivers the same with in a set timeline. He is the best SEO expert in India and I will recommend him for the SEO consultation services.
Devendra is one of those passionate minds who goes out of the box to achieve break through performance. He has been helping brands since several years to successfully achieve their objectives digitally, which has helped him hone his SEO skills. I worked with him for various category of brands and I am happy to recommend Devendra for his SEO skill set.
Why Hire me as your SEO Consultant?
It's a no brainer – you want to hire the best search engine optimisation expert to grow your revenue from Google Search. When you hire Devendra Saini  you can be assured of a superb ROI. I am not the Kind of SEO expert who over promises and under deliver but can rather believe in setting right approach, strategy and make data driven decisions to achieve desired results
I have the proven experience as an  SEO expert that can take your website and make it reach new heights. Absolutely everything that I have learned and practiced over the years I continue to implement my learnings day in and day out – ensuring that no stone is left unturned when finding ways for your business to grow online. 
I understand the current situation of the website and then formulate a tailor made SEO strategy which identifies all the current pain points & How to solve them. Every website is different and can't be ranked with a similar approach. That is where my decade long experience comes in with the right recommendations that can grow your websites organic Search visibility over a certain period of time.
My mission is to get your website higher rankings, quality traffic, leads and grow your revenue.
Most frequent questions and answers
What are the Benefits of SEO for your Business ?
Sustainable traffic growth for your brand
Significant ROI of marketing efforts
High lifetime value of customers
Growth in non-branded traffic
Reduces your overall customer acquisition cost
High intent-driven traffic
Very high conversion rates and quality leads/customers
Drive better awareness with Top of the fold visibility in Featured snippets, Local Map Packs & Other Knowledge Panels
Better perception & experience of the brand as compared to competitors
Latest Webinar on SEO Trends in 2023 with Digital Scholar